Congress Recognizes NAHB Member for Helping Homeless Women Veterans
NAHB.org – October 27, 2011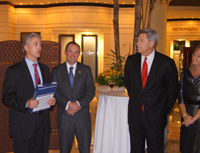 Home builder Chip Smith and his company Blue Ridge Log Cabins of Campobello, S.C., were recognized from the floor of the U.S. House of Representatives by Rep. Trey Gowdy (R-S.C.) on Oct. 26 for building a home for women veterans. The home was donated to the Steps-N-Stages Jubilee House, a non-profit agency that provides housing for homeless and disabled women veterans and their families in… Read more»
Blue Ridge Log Cabins First Ever Facebook Photo Contest Concludes with Outstanding Success
Press Release – March 17, 2011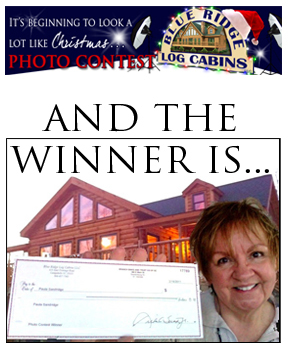 The first ever Blue Ridge Log Cabin Facebook contest ended with great success and many happy Blue Ridge customer participants.
Not only did their Facebook page fans double in size (approx. 524-1029) in less than a month but the world got to see the uniqueness and love each individual puts into their own log home. The members of the BRLC Facebook page enjoy the personal interaction and communication they get to encounter with other fans of Blue Ridge Log Cabins… Read more»
Realtor, Log Cabin Builder Join Forces
The Mountaineer – February 18, 2011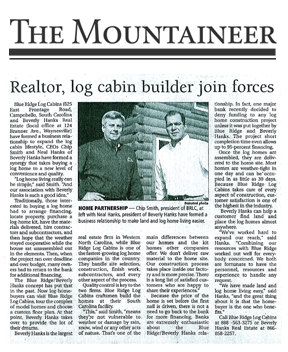 Blue Ridge Log Cabins (625 East Frontage Road, Campobello, South Carolina) and Beverly-Hanks & Associates Real Estate (local office at 124 Branner Ave., Waynesville) have formed a business relationship to expand the log cabin lifestyle. CEOs Chip Smith and Neal Hanks of Beverly-Hanks have formed a synergy that takes buying a log home to a new level of convenience and quality… Read more»
Log Home Living Finally Made Simple
Press Release – February 15, 2011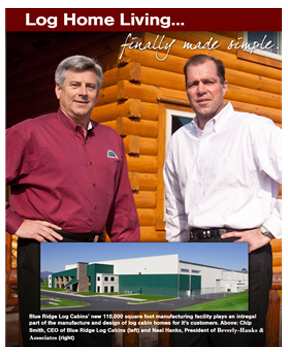 "Log home living really can be simple," says Chip Smith. "And our association with Beverly-Hanks is such a good idea." The idea to which Mr. Smith refers is the relationship of his Blue Ridge Log Cabins (625 East Frontage Road, Campobello, SC 888 -563-3275) with Beverly-Hanks & Associates (real estate offices throughout Western North Carolina, 866-858-2257).
CEOs Smith and Neal Hanks of Beverly-Hanks …. Read more»
Core Competency in the Modular Home Factory
Modular Home Builder – January 27, 2011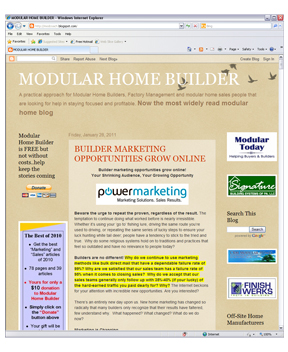 Core Competency is a term used by many modular home factory management teams to set their company apart from the competition and to help attract new home builders and their customers. Management will focus on the one thing that makes their factory better than anyone else. They want to make their strategy difficult for any competitor to imitate and also keep the company from wasting time doing things that they're not good at…. Read more»
BRLC Website Rated #3 in the Industry
Modular Home Builder – January 10, 2011

I've wanted to rate modular and log home websites for quite some time but never quite got around to doing it. Then out of the blue, friends of ours called and said that their daughter and son-in-law were thinking of building a new home and wanted my opinion of the different companies that built them.
One thing led to another and before we knew it, they were sitting in front of my computer along with my wife, my son and his girlfriend and our friend's daughter and her husband… Read more»
Candidate for SC Governor, Gresham Barrett, visits BRLC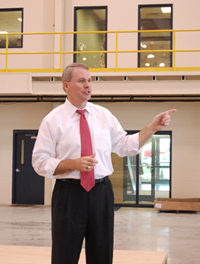 Gresham Barrett recently visited Blue Ridge Log Caibns to address the employees about his run for South Carolina Governor.

John Moore Announces His Candidacy from BRLC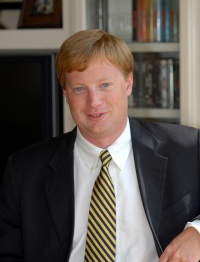 John Moore recently visited Blue Ridge Log Caibns to announce his candidacy for South Carolina House District 38. This distrct serves the area that includes Blue Ridge Log Cabins and is home to many of it's employees. John addressed the employees of Blue Ridge to announce his intentions to seek office and later provided lunch for everyone.



Each One Unique
Building and Construction Magazine – Winter 2010

Chip Smith, Owner of Blue Ridge Log Cabins, does not want people to think that log cabins are just secondary homes. With the quality Blue Ridge builds into its homes, he says they exceed typical building standards. "Our homes are built in a controlled environment inside our factory," Smith states. "This ensures quality without the problems of… Read more»
From the Ground Up: ADT Secures Log Cabin Dreams
Security Dealer & Integrator Magazine – December 2009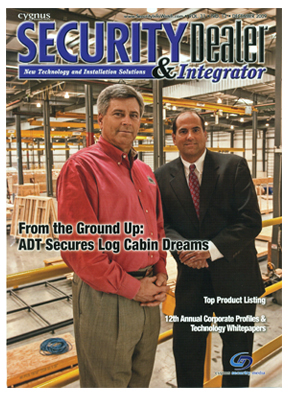 Securing your home with a state-of-the-art security system seems like a no brainer today but what about when it comes to those facilities with large investments in construction equipment and materials, as well as a large workforce and frequent visitors?
For many of these facilities theft is a key issue alongside worker's compensation and other timely topics. In fact, according… Read more»
Blue Ridge Log Cabin sales on fire, quadrupling business with Internet
Herald Journal – 08/23/2009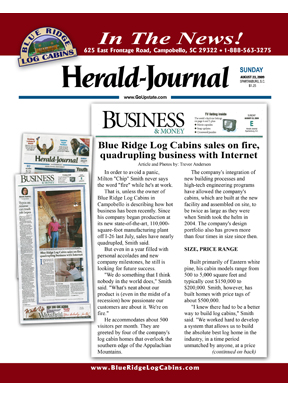 In order to avoid a panic, Milton "Chip" Smith never says the word "fire" while he's at work.
That is, unless the owner of Blue Ridge Log Cabins in Campobello is describing how hot business has been recently. Since his company began production at its new state-of-the-art, 110,000-square-foot manufacturing plant off I-85 last July, sales have nearly quadrupled, Smith said.
But even in a year filled with personal accolades and new company milestones, he still is looking for future success. Read more»
USC Upstate Alumni Receive Spartanburg Area Chamber of Commerce Honors
Four graduates of the University of South Carolina Upstate were honored at the Spartanburg Area Chamber of Commerce's annual meeting as the organization hailed the county's top business leaders from 2008.
Read more»

A Cabin Is Not a Shack
New York Times – November 14, 2008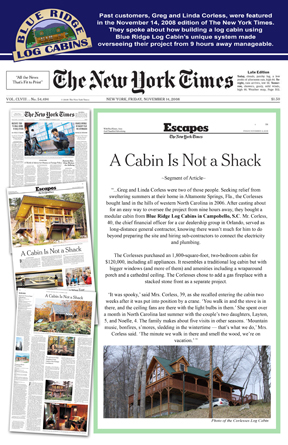 Greg and Linda Corless were two of those people. Seeking relief from sweltering summers at their home in Altamonte Springs, Fla., the Corlesses bought land in the hills of western North Carolina in 2006. After casting about for an easy way to oversee the project from nine hours away, they bought a modular cabin from Blue Ridge Log Cabins in Campobello, S.C. Mr. Corless, 40, the chief financial officer for a car dealership group in Orlando, served as long-distance general contractor, knowing there wasn't much for him to do beyond preparing the site and hiring sub-contractors to connect the electricity and plumbing.
The Corlesses purchased an 1,800-square-foot… Read more»
Glenn Springs dedicates 3 cabins
Spartanburg Herald Journal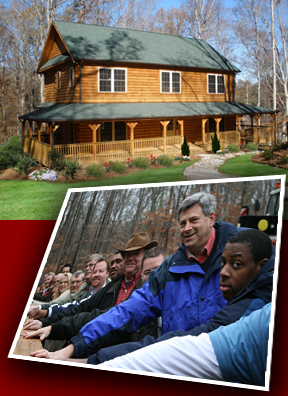 Mike Raney, CEO of Glenn Springs Academy, formerly the Spartanburg Boys' Home, remembers standing on the densely wooded hillside behind campus a little over a year ago with a picture in his mind.
"I remember looking out and thinking this would be the perfect setting," Raney said. "The land wasn't being used, and it was a tremendous opportunity for the kids and for what we're trying to do here." Read more»

Log homes get extreme makeover
GSA Business Magazine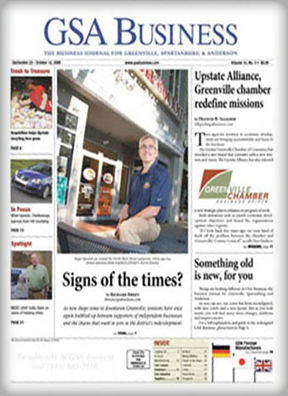 Dreaming of a serene lifestyle in a natural setting? If so, that flatbed truck ahead of you on the interstate could be carrying your next home.
Log homes have been reputed to be strong and sturdy, but with large price tags and lengthy construction estimates. Now, modular home-building technology is helping to streamile the construction process and trim costs. Read more»
Blue Ridge Log Cabins earns rank on Inc. 5000 list
Inc. Magazine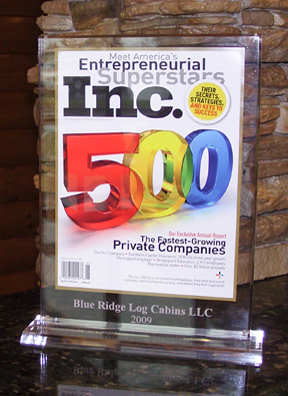 We are pleased to announce that Blue Ridge Log Cabins has earned a rank on Inc. Magazine's 2008 Inc. 5000 list, which celebrates the 5000 fastest-growing private companies in America.
For more than 27 years, the Inc. 5000 list has served as a benchmark for the most innovative, dynamic, and successful companies in the nation. As an Inc. 5000 honoree, Blue Ridge Log Cabins is now a member of the most influential business club in America. Inc. 5000 alumni include Bill Gates of Microsoft, Larry Ellison of Oracle, and many more.
Archive Articles:
To read about Blue Ridge Log Cabins meteoric growth click on an article.
From the Ground Up: ADT Secures Log Cabin Dreams » 12-2009
Blue Ridge Log Cabin sales on fire, quadrupling business with Internet » 08-23-2009
2008 and 2009 Inc. 500 list » 09-02-2009
BRLC adds new facility » 11-16-2008
Log Home Design – Cover » 11-2008
Building a foundation » 01-16-2008
Building Systems Blurb » 01-02-2008
BRLC on HGTV »09-9-2007
Country's Best Log Homes – Cover » 07-2007
Cabin Fever » 07-2007
Log Cabin factory blown down by storm » 6-19-2007
Life Herald-Journal » 04-18-2007
Cabins Herald-Journal » 04-18-2007
Council Oks Tax Incentives for BRLC » 12-7-2006
Business Herald-Journal 2 » 12-7-2006
Log Cabins » 12-7-2006
Economic Incentive for BRLC » 12-6-2006
BRLC gets visit from HGTV » 11-12-2006
Log Homes Illustrated » 01-2006
BRLC New Concept in Sales » 11-01-2004